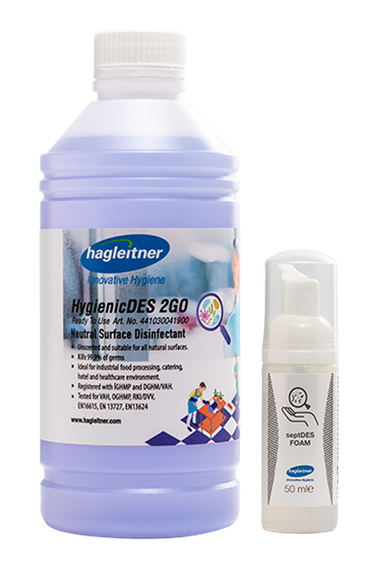 Stay Safe All-Round Protection Bundle
All-Round Protection  
Against COVID-19. Disinfect your hands with Hagleitner septDES FOAM & working areas with HygienicDES 2GO neutral surface disinfectant.
1 Bottle of Hagleitner HygenicDES 2GO (1000ml)
1 Bottle of Hagleitner septDES FOAM (50ml)
Ideal Gift for your loved ones, friends or clients
From Austria 

septDES FOAM
Hand Disinfection and Cleansing
  Hand Disinfection
When used without water, septDES FOAM has been assessed and certified for hygienic hand disinfection according to EN 1500. Rinsing with water is not necessary.
 Hand Washing
When used with water, septDES FOAM is certified for hygienic hand-washing according to EN 1499, and thoroughly cleans the skin. The pleasant foam is gentle on skin.
Alcohol Free, Dermatology Tested, Suitable for Sensitive Hands
HygienicDES 2GO
NEUTRAL SURFACE DISINFECTANT
Odourless and Suitable for Sensitive Surface
Kills 99.9% of Germs
PH Neutral Surface Disinfectant
Spray, Wipe and Leave to dry
VAH certification
Suited for Flooring, Windows, Glass Panels, Workstations, Sanitary, Living Space, Kitchen